What's New at BML
BML is looking for Subs!
Baxter Memorial Library is continually accepting applications for its list of on-call, part time, Substitute Library Assistants to cover employees' absences. Ideal candidates are those looking to broaden their library experience and build valuable skills and relationships. Duties include providing excellent customer service while staffing the circulation desk in either Adult or Youth Services as assigned. Considerable contact with the public, both in-person and by phone is required along with effective communication skills. Prior experience working in or volunteering for libraries is preferred. Candidates with an equivalent combination of training and experience will also be considered.
The pay rate is $10.75 per hour.
HOW TO APPLY:
Please print and submit a Town of Gorham Employment Application found on the "Employment" section of the Town's website found at www.gorham-me.org or HERE
A copy of the job description for this position is also available HERE and on the Town's website. Applications are also available at the Baxter Library during normal business hours.
COMPLETED APPLICATIONS:
May be submitted by regular mail, hand-delivered, or emailed to:
James Rathbun
Library Director
Baxter Memorial Library
71 South Street, Gorham, ME 04038
or at jrathbun@msln.net
~The Town of Gorham is an Equal Opportunity Employer~
Maine Author Event
Mary Lawrence author of The Bianca Goddard Mystery series
Thursday, March 2nd, 6:30pm
Mary Lawrence, Buxton resident and author of the Bianca Goddard Mysteries, will visit Baxter Memorial Library on Thursday, March 2, 2017. Mary Lawrence grew up in Southern Indiana and attended Indiana University, graduating with a specialty degree in Cytotechnology, and moved to Maine shortly thereafter. Cytotechnology is the microscopic interpretation of cells to detect cancer and other abnormalities. Featuring the daughter of an infamous alchemist and set in Tudor London during the final years of Henry VIII's reign, the series follows Bianca Goddard in her pursuit of science to create medicines to help the sick. Along the way, Bianca must deal with a most unhealthy dose of murder and mayhem.
Titles in the series include The Alchemist's Daughter, Death of an Alchemist, and Death at St. Vedast.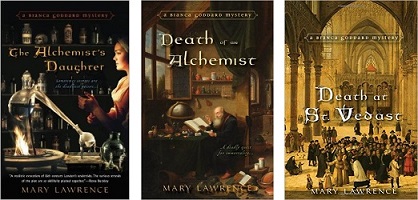 Winter Book Group Selections
Book Group meets roughly every other Thursday at 10:00am. We hope you'll join us!
February 9 - Lily and the Octopus by Steven Rowley
February 23 - One in a Million Boy by Monica Woods
March 9 - Poor Your Soul by Mira Ptacin
March 23 - A Great Reckoning by Louise Penny
April 6 - The Underground Railroad by Colson Whitehead
April 20 - Small Great Things by Jody Picoult
May 4 - Hillbilly Elegy by J.D. Vance
New Library Cards
To apply for a new card or to update your account, please click here and follow the prompts. After that, simply visit the library at your convenience with a valid photo ID (and proof of address if your ID isn't current) to sign the form and pick up your new card. As always, students through Grade 12 may use their school and grade as ID/proof of residence. For children below school age, no ID is required. Children under 13 will need a parent/legal guardian to sign their form as well. Finally, keep in mind that everyone, including children, needs to be physically present to receive their new card. The form can be filled out at any time but to complete the process and receive a new card each person applying needs to come to the library in person.
Thanks! We look forward to seeing you here soon!
Veterans Survey
In conjunction with our annual Veterans Day Ceremony, the Veterans Day Committee is developing a database of veterans from Gorham or with Gorham ties. This is an effort to preserve this part of our local history.
Veterans, and the loved ones of veterans, are welcome and encouraged to participate.
If you are a veteran, please use this link: Gorham Veterans
If you are the loved one of a veteran, please use this link: Loved ones of Gorham Veterans
If you have any questions about either survey or this database project, please contact James Rathbun at 222-1190 or jrathbun@msln.net.
Thank you,

The Gorham Veterans Day Ceremony Committee
Georgia Humphrey
James Rathbun
Ron Shepard
What You Need to Know About Health Insurance
If you're curious about the new government regulations regarding health insurance and what they might mean for you, the Maine State Library has created a page with links to all sorts of valuable resources here: Health Insurance Information.
View Our Newsletter Online
Did you know our newsletter is available in PDF format online? View current and past issues here or use the link near the bottom of the sidebar to sign up to receive the newsletter in an email every month:
January 2017
December 2016
November 2016
October 2016
September 2016
July/August 2016
June 2016
May 2016
April 2016
March 2016
February 2016

LearningExpress Online Resource
Simply click the link to visit LearningExpress, the latest addition to our online services.
Funded by the Maine State Librarys BTOP grant and available to Maine public library patrons, LearningExpress Library is an interactive online learning platform featuring over 770 practice tests, tutorials, and eBooks related to job search and workplace skills improvement, career certification and licensing exam preparation, college entrance and graduate school admissions exam preparation, GED exam preparation, and basic skills improvement in reading, writing, and math, for all ages.
You will get immediate scoring, complete answer explanations, and an individualized analysis of your results. In addition, you will find interactive popular software tutorials/courses that are video-based and allow you to learn at your own pace.

Portland Public Library Cards
Did you know that all residents of Cumberland and York counties are eligible for a free Portland Public Library card and, with the 14-digit number it provides, access to their amazing online resources? It's true. Many of the most valuable resources Portland Public Library has to offer can be accessed for free without ever leaving your home. All you need is a library card.
With that in mind, you will now be able to obtain a free Portland Public Library card at the circulation desk here at Baxter Memorial Library.
Highlights of what PPL has to offer include:
- Genealogy information from HeritageQuest and Ancestry Plus
- Learn-a-Language audiobooks from the Pimsleur Language series
- Thousands of audiobooks you can download to your MP3 player
- Auto Repair manuals
- Learn-a-Test programs you can use from home
- Business Research from Mergent and other references
- Kids' e-books from Tumblebooks Library
For more information, please ask the helpful staff at the front desk or call 222-1190.
The Grocery Cart at BML
The Gorham Ecumenical Food Pantry was formed in 1996 when Gorham area churches banded together to provide assistance to the community. The grocery cart that sits in the lobby of Baxter Memorial Library is also part of that cause and donations of non-perishable items are welcome.

Maine Legal Help Resource
Visit www.helpmelaw.org to find people who may be able to help you with a specific legal problem, information about the laws that affect you, a library of legal resources, contact information for low-cost legal help, and many other valuable legal resources.

Maine Answers Tough Times
Whether it is called a recession or a depression, all of us are now facing an economic downturn that can be simply described as tough times. How we respond and what we need to make it through these tough times will differ from person to person; family to family.
With that in mind, the Maine State Library has created a list of links and resources to help us all get through these hard times; whatever form they may take. For more information, please visit Maine Answers Tough Times.

What is Your Library Worth?
Have you ever stopped to consider the dollar value of the services you enjoy at Baxter? We did. Based on our last fiscal year's circulation figures entered into the Library Use Value Calculator, Baxter Memorial Library delivered $2,862,908 in services to our patrons on a budget of $442,645. Which is to say that for every $1.00 in funding the library received it returned nearly $6.50 in value.
Why not try out the Library Use Value Calculator yourself. It will help you put a price on the materials, programs, passes and functions of the library that you use most. You may be surprised just how much that little library card is really worth!

Literary Map of Maine
The Portland Press Herald / Sunday Telegram has posted their Literary Map of Maine online. It can be viewed by clicking here.